Juliana Carlos is a very famous social media personality, who has attained even more recognition after her argument with LeBron James. Moreover, fans might like to know that she is also the wife of a businessman, Chris Carlos. So, as we said earlier, she was involved in an argument.
So, if you want to know more about the incident and about Juliana, then go through this article to know the details.
Brief On The Headliner Incident
The couple went to watch a thrilling game at L.A between Lakers & Atlanta Hawks in February 2021. However, in that game, the Instagram model and star, Juliana Carlos stole all the attention from the game.
She got into an argument with LeBron James, who is an American basketball player of high repute. In fact, the argument went crazy as the referee had to interfere and stop the play midway.
Moreover, after the incident, the referee kicked the couple out of the State Farm Arena. However, it was not the end of it at all. The argument went on in social media as well. So, soon after that, the video of the argument went viral, after heckling Lebron James, the NBA Star.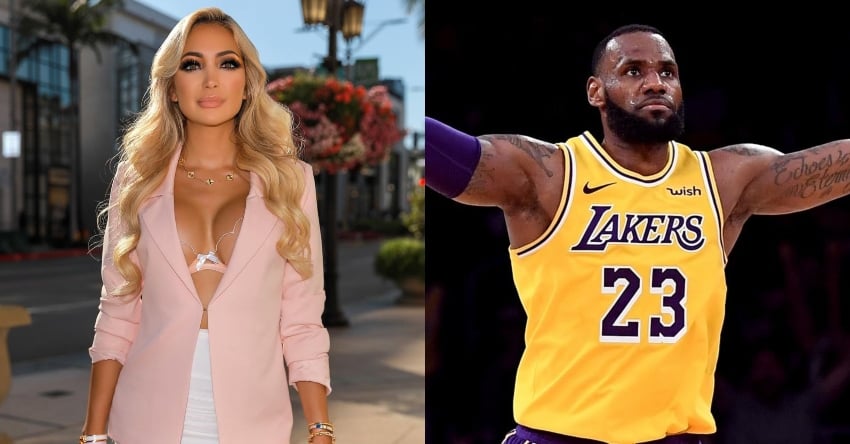 So, you might be wondering about what really happened that caused such a scene. Well, as per Juliana's statement, she got into a spat after James told her something obscene to her husband. This is the reason that made her lose her temper and got into a spat with the legendary basketball player.
However, there's no substantial information about what was said. In addition, while leaving the arena, Juliana even held up her middle finger toward the legend.
Reaction Of LeBron To The Whole Fiasco
After the game night and the embarrassing spat, LeBron took up to Twitter and wrote 'Courtside Karen'. In fact, regarding this whole thing, NBA even set up an investigation as well. However, LeBlanc didn't pay that much attention to the whole thing.
Moreover, on 3rd February 2021, Juliana apologized for losing her cool and making a scene like that. In fact, she said that she and her husband are passionate lovers of the game. Therefore, she thinks that sports aren't complete without a little trash-talking. However, she knows that she did cross the limits, and has taken responsibility.
But it's also worth mentioning that this is not the first time that she made hostile remarks to LeBron. Previously too, she posted hate comments on the legend. So, fans were wondering whether they'd be banned from entering future NBA games or not. However, there's no ban for them on the horizon.
Things To Know About Juliana Carlos
So, the American-born woman Juliana is currently 26 years old. She was born in the year 1995 and therefore, her age is 26 years.
Juliana Carlos is a social media influencer, a youtube star, and of course, a model. She has over 80k followers on Instagram, and that number increased especially after that fiasco.
Moreover, it's also worth mentioning that she has a youtube channel where she posts videos of Makeup tutorials. In addition, she has also landed endorsement deals from Pretty Little Things, Lou Boutin World, etc. Furthermore, she tied the knot with Chris Carlos, a rich businessman in 2020.
As for her net worth, there's only a rough estimation, but it's anywhere around $2.5 million USD.
Final Thoughts:
So, that's it, folks, there you have the story of Juliana Carlos, who had quite an eventful night. Things like these do indeed spice up the game night.
Read Also -: Exciting Facts On Bill Burr's Wife, Nia Renee Hill